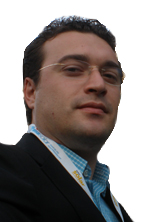 Vladko Ristov graduated in mechanical engineering, from the top Macedonian university, Ss. Cyril and Methodius University of Skopje. During his studies and professional career, Ristov has travelled the world brushing up his expertise, attending seminars, training courses and exhibitions. Journeying to China, Russia, Austria, Germany and many other destinations, Ristov has become a global specialist on thermo dynamics.
Ristov began his career, designing solar technology systems, in combination with geothermal and air source heat pumps, at Naturkraft MM. Following this, he became the director of solar tubes; producing solar collectors and designing solar system technologies using the T*Sol expert application. Ristov's work led him to the Centre of Plasma Technologies, PLASMA Ltd, where he further developed thermo technology.
Ristov is highly regarded in the renewable energy industry. His academic background, work experience and international knowledge are held in high esteem. The Energy Agency of Macedonia selected Ristov to be part of the FP7 project on polymer solar thermal collectors, supported by the European Commission. Ristov has been a team member of the project for the "Development of the Macedonian National Report" for solar thermal collectors.
Ristov has co-written the book "Integrating Solar Thermal Systems in Roof and Facades", supported and financed by the Austrian Development co-operation and the Solar Association of Macedonia.
As the general manager of Camel Solar, Ristov continues to implement his specialised knowledge in renewable energy engineering.

Dr. Ilija Nasov
Chairman of the Board
ilija@camel-solar.com
++389 70 205 635
Read more here.

Vladko Ristov
General Manager
vladko@camel-solar.com
++389 70 204 233
Read more here.

Nadica Nikolic
Office Manager
nadica@camel-solar.com
++389 22 602 029
Read more here.

Glan Blake Thomas
Managing Director
gbt@camel-solar.com
+44 1342 310 400

Aleksandar Tancev
Director
aleksandar@camel-solar.com
++389 70 410 970
Read more here.

Hristina
Project Manager
hristina@camel-solar.com
++389 70 205 635
Read more here

Edward Blake Thomas
European Sales
edward@camel-solar.com
+44 7917 735 275

Lucy Jeffrey
Marketing manager
lucy@camel-solar.com
+44 1342 310 400
Read more here.
.
Macedonia | Hong Kong | Shanghai | UK